Our Story
How We Met
I was on a mission; walking around Buckhead looking for a bar or restaurant that would have an opening for dinner for 3. My sister Maddie was visiting from college on her Spring Break and my uncle Mike was picking her up from the airport. I was striking out and time wasn't on my side. You see, it was St Patrick's Day weekend and Buckhead was a zoo. I was making my way from Fado across to the other bars and restaurants, but there was no room anywhere. I kept walking and came across The Big Ketch, a great little Seafood bar and grill just off the main strip of Buckhead bars. It didn't appear to be as crowded, there was live music, it seemed perfect. Mike and Maddie were still about 30-40 min away, so I took a seat at the bar, ordered a beer and scanned the scene. The bar got increasingly crowded as I was sitting in my solo bar stool enjoying a fine pint. I noticed it was getting difficult for folks to get a drink and then I heard a "clank" on the floor by my feet. It was one of those electronic remotes that vibrates and flashes obnoxiously to let you know your table is ready. Most restaurants would have taken your number and called or texted when they were ready. It was 2014 after all, but for that one day I thank God that the Big Ketch was stuck in the 90s of hostess etiquette. Being the gentleman I am, I picked up the remote and turned around to give it to its rightful owner. It was a beautiful, striking blonde and her 2 friends that were camped out behind my barstool ordering drinks while waiting on their table. I struck up a conversation with the 3 ladies with an eye for the blonde. Her name was Laura and I started making wisecracks and eventually got myself invited to their table as I waited for my uncle and sister. Playing it cool, I said I may stop out there in a bit after I finish up at the bar and see where my family was. Well, with Mike and Maddie running late, I decided to roll the dice and head out to the patio where their table was. I noticed an empty seat right next to the beautiful blonde and I took it imediatley. I didn't realize it was actually one of the other female's seats that I took and when she returned from the bathroom, I was in a bit of a pickle. What do you do? Obviously I have to give up my seat, but I did one better. I grabbed a chair from another table, pulled it up and gave the new chair to the friend, securing my seat next to Laura for the foreseeable future. As a parting gift, I offered my green sweatshirt as it was starting to get chilly. It was really more of a strategic move if you look at it from my position. You see, I'm going to have to leave this table to eat with my family eventually, but if I "leave my sweatshirt there" it gives me some more FaceTime with Laura. Genius if you ask me...Anyways, just as the conversation was flowing, Mike and Maddie walked in and our table was ready. It was a bigger buzz kill than Buzz Killington (Family Guy reference - look it up). I had to leave my new friend(s) and go eat with my family. Lucky for us, I got the booth right next to the bathroom. About 20 min later, Laura was in front of our table waiting in line for the ladies room. My uncle Mike, being the instigator that he is, waved her over to have a seat and chat. I have no idea what we talked about, we laughed and she snapped a pic of us for Maddie's spring break memories. Little did we know, that picture would mean something a little more a few years later.
After we finished up our meal, I had to go retrieve my sweatshirt from the table outside and figure out my next move. Well, I was surprised...Laura had drawn up a play of her own. A back door cut if you will. I came back to retrieve my sweatshirt and the other woman asked if I would be so kind as to reach over to the other end of the tables and grab her phone. Being a wise guy, I asked what was in it for me. Laura turned and said, "You can have my number." There it was - A backdoor cut that only a Pete Carril coached Princeton team could execute. Wow. Done. Deal. I had met my match. That beautiful blonde and I would continue to banter back and forth and to this day we make each other laugh as much as we did that first night. That beautiful woman who dropped her remote is going to be my wife.
The rest, as they say, is history.
The Wedding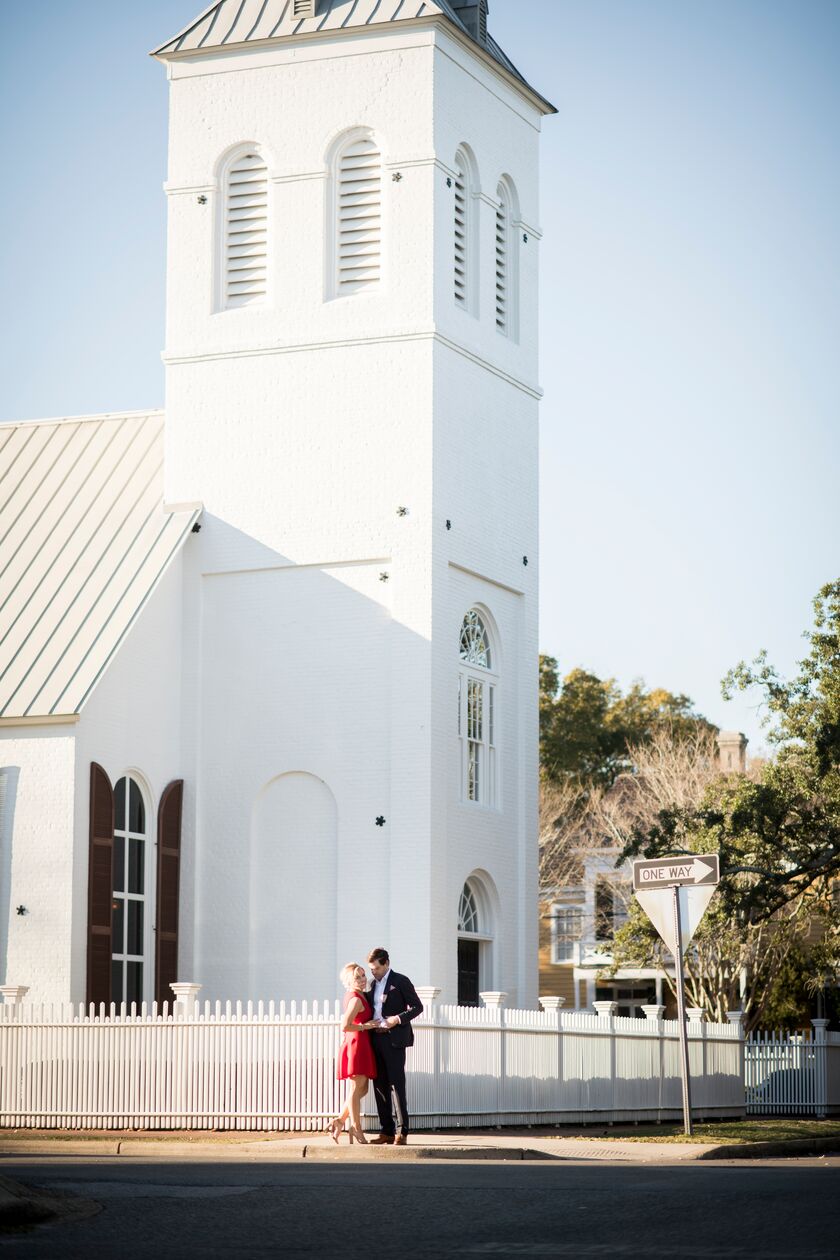 Saturday, September 23, 2017
4:30 PM
Attire: SEMI-FORMAL
Ceremony
Old Christ Church
405 S Adams St, Pensacola, FL 32502, USA
Reception
Pensacola Yacht Club
1897 Cypress St, Pensacola, FL 32502, USA
We are thrilled to be celebrating in front of the Lord at our favorite old church in Pensacola. Built in 1832, Old Christ Church is one of the oldest surviving churches in all of Florida. We hope you enjoy the quaint beauty as much as we do!

After our ceremony, we will celebrate on the water at the historic Pensacola Yacht Club.

Other Events
Welcome Party!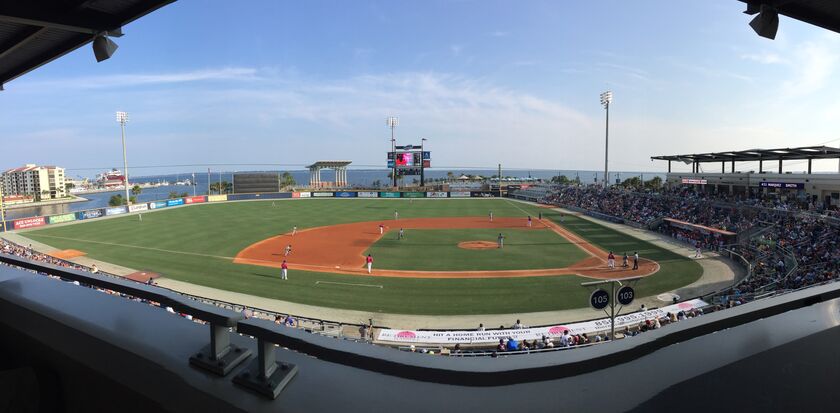 Friday, September 22, 2017
8:30 PM
Blue Wahoos Stadium
351 W Cedar St, Pensacola, FL 32502, USA
Join us for drinks and good times at the ole ball park. The Blue Wahoo's Stadium is one of Laura and my favorite spots in the city.
POST WEDDING PARTY!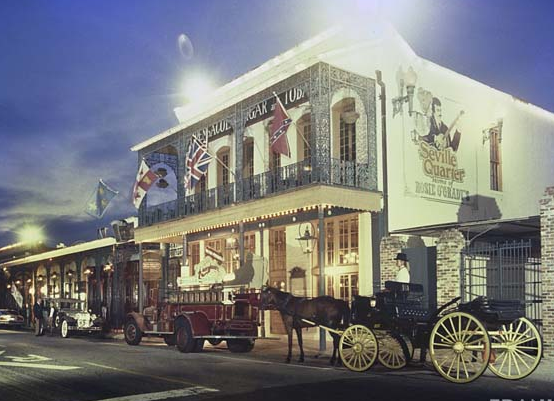 Saturday, September 16, 2017
11:30 PM
Seville Quarter
130 E Government St, Pensacola, FL 32502, USA
Please join us at Seville Quarter for continued celebration at 11 PM! Please tell the front door you're with the Guilday/Steger wedding to avoid paying a cover. Guests should enter through the Hancock Bank Entrance, it will be lit up and someone will be there to guide you.
Wedding Party
Lauren Klein Zwieg - Matron of Honor
We met 6 years ago through work and quickly became known as the "Work Wives" to our peers and even clients. I was honored to stand up in Lauren's wedding last year, when she married her high school sweetheart, Zach. Lauren recently moved less than a mile away from me and this short walk has led to many more wine and cheese nights for catching up and wedding planning!

Tess Postma Howard - Matron of Honor
I met Tess on the first day of Rush on the Tiger Transit bus at Auburn. She sat down next to me and within just a few minutes invited me over to her apartment for lunch. I skipped my bus stop, and ended up meeting my first friend in college and joining the same sorority. I had no idea our friendship was just in the beginning stages of a lifetime of memories and laughter. Tess lives in Destin, FL with her husband Jay.
Shannon Steger - Bridesmaid
Shannon is Pete's sister, who moved to Atlanta two years and has become one of my closest friends. There is never a dull moment around Shannon, and I am so thankful we got to spend over two years becoming close friends. Shannon is pursuing her career passion as an Art Director and has helped tremendously in wedding planning, including designing our Save the Date!
Sarah Steger - Bridesmaid
Pete's middle sister and I instantly bonded over our love of clothing and her career aspirations! Sarah is extremely ambitious and just moved by herself from Chicago to San Fran for a new job. Pete and I love taking her calls from the West Coast to hear about what adventurous activity she is headed to next.
Maddie Steger - Bridesmaid
Pete's youngest sister and was at the Big Ketch THE DAY WE MET! If her flight hadn't been delayed, we may never have met at all! Pete and I will forever owe you for deciding to come to Atlanta for your Spring Break. Maddie is a blast to be around and is a Senior this year at Indiana University.
Jaycee Brock - Bridesmaid
Childhood best friend from the first day in 6th grade when we were forced to run the mile in P.E. "Jedi Jaycee" was like a second daughter to my parents and joined our family on every vacation and get together. We have countless memories and although we have lived far from each other for years, we never miss a beat when we get back together. Jaycee currently resides in the Big Apple!
Nicole Martin - Bridesmaid
Sorority sister that has always been the most driven and dedicated to her studies and career. Nicole is an incredible veterinarian, and all around animal lover. Mom to the cutest little girl, Wren and lives in Birmingham with her husband Rhett.
Tison Singleton - Bridesmaid
Sorority sister that was the planner for all milestones, and the friend that is always there for anyone on the big and small moments. This picture is from Halloween 2008, when Tison dressed up as me...ha! You can find Tison planning every major charity event or fundraiser in the city of Montgomery, Alabama.
Allie Blessing - Bridesmaid
Allie and I became instant friends after she started dating my long term friend, Patrick Donahue, three years ago. She has been there for so many couples trips and huge moments over these past years. All four of us are in each other's weddings this year and they live right around the corner from us in Atlanta.
Jordan and Scottie Dowdle - Flower Girl
I first met Jordan and Scottie on Easter 2014. It was a beautiful Sunday filled with laughter, searching for Easter eggs, and a few mimosas with their lovely mother, Chmaine :) I have thoroughly enjoyed getting to know the girls and their parents, Mike and Chmaine. They've been unbelievably welcoming to me, and I can't wait to call them family.

Matthew Steger - Best Man
Matt and I are 16 months apart and have caused a lot of trouble over the last 30 years. He and I have countless stories, but one that sticks out is when he convinced some females in the back of Duffy's that he invented the little contraption that holds a lobsters' claws together so they don't pinch. He had them eating out of the palm of his hand. They didn't realize it's a rubber band. Love Duffy's. Matt played hoops at Northwestern and as you can imagine is super pumped at the Tourney bid this year. He lives in LA and works at Faction Entertainment, a music management platform that provides a variety of services to band managers and artists.
Kevin "Darx" Steger - Best Man
Darx is 7 years younger than me and has often been the guinea pig in all my little experiments. I've taught him all the important things in life, like how to properly take a charge when playing street basketball and how you properly form tackle in knee football. Many of my friends remember Darx as the innocent 12-13 yr old roaming the fraternity house and being exposed to far too many things at a young age. He's now a strapping 24-yr old gent working on awesome projects at Clune Construction in Chicago. I gave him the name Darx but no one (including me) really knows what it means or how I came up with it.
Michael Guilday - Groomsman
Mike is Laura's older brother and one of the most genuine people I've met. We bonded instantly over a beer at World of Beer and may have had one too many bourbons at Whiskey Bar which ended in an entertaining return to my future in-laws house. We still catch some flack for that night. Michael welcomed me in right away and has been a huge added benefit of my relationship with Laura. We never skip a beat and when LG and I visit Pensacola one of the highlights is us sneaking off for a beer or two and coming up with a new excuse of where we were. Michael lives in Pensacola.
Mark Rollings - Groomsman
Rollo and I have been friends for 25 years. From the days when I was blocking for him as the Center of the Sts. Faith, Hope and Charity Bulldogs football team (1998 Catholic League Champs!), through the baseball days at Loyola, through rooming together in the cleanly Room 13 at Sigma Chi, through winning multiple Softball Championships in Chicago - Sidenote: I won Coach of the Year in 2011 for my efforts as an injured player turned coach and my entertaining postgame pressers . Another sidenote: there is no such thing as Coach of the Year in men's adult softball...should be though...but that's for another time. We've been pals through it all. Rollo lives in Chicago and he and his wife Julie are expecting their first child this fall.
Josh Rowell - Groomsman
JTR. Another fraternity brother taken to a new level, Josh and I have been best buds for a long time. Sharing a love of bourbon, but certainly not of cats, JTR has made countless trips down to Atlanta with me and is always up for an adventure. I still have the airbrush t-shirts you made at the Pool Hall Block Party and find myself laughing frequently at all the fun times we've had together - some of the best being in the South (hint) whether NOLA or ATL. Josh lives in Chicago with his wife Carolyn and his cats Piper and Dudley.
Richard Hackmann - Groomsman
Richard is the biggest character I know. And I love him for it. Richard and I go back to the early days at UofI. We've had some epic times together - whether it be in NOLA (stories not to be in written form) or STL with me sitting on the porch with your old man hearing his views on current events and technology. We grew even closer as I started to travel to SF extensively for work. Rich has returned the favor with several trips to Atlanta of his own. Rich lives in Palo Alto.
Drew Michalak - Groomsman
Drew and I share a home zipcode 60093, but really got to know each other at Illinois. One of the fondest memories is cruising to Daytona Beach with Drew, Rollo and Ryan McCoy in the old Mazda Tribute listening to CDs (yes CDs) and local radio all the way down. Of course there was a stop in Atlanta, where we caught the Sweet 16 games at the Georgia Dome. Where Drew is, the party is. Right now the party is in SF with his wife Emily.
Patrick Donahue - Groomsman
Atlanta's Oldest Boy (old southern boy, old boys club, etc..you get it) . The Old Boy (OB for short) or Diddy has been a friend of Laura's for the past 8 years and instantly brought me into the fold from the first time we met. We have great heart-to-hearts and is one of those friends I will have for life. If you're ever caught traveling with him, he's scared of flying so by the time you board the plane be prepared for some antics. His family hails from Boston and brings that unique mix of NE and SE humor, which makes for an epic combination. Patrick lives in Atlanta with his fiance Allie and their dog Huck.
Adam Shalapin - Groomsman
From the 6'4" curly haired kid from St. Louis University-High to the remarkable engineer who chased his dream out to CO, it's been an awesome ride with Adam. Adam is one of those guys that even if you don't talk for a while, you pick up right where you left off when you get together. His attention to detail has almost made me resign as Fantasy Commissioner 3 times as you can count on him to forward a text or email from 2013 where I said something in direct contradiction to the way I actually carried out a certain rule. Cheers to him for keeping us honest. A testament to our great friendship, Adam and I have stayed close despite not having lived in the same city since 2008. Adam lives in Denver with his wife, Meghan.
Chad Lewis - Groomsman
The Radest of them all. Chad and I got to be great buds and brothers at U of I. We roomed together in Room 1 of the Fraternity House when I was President and he was House Manager. Chad and I were managers at Kams pouring drinks and had great times together including an epic trip to the 2008 Rose Bowl. We won't talk about the score. He also was a staple with my family post-college at NU games cheering on Matt. Chad lives in Chicago with his fiancé Anne.
Marlowe Inger - Ring Bearer
Marlowe is Laura's cousin and is the master of the Auburn tailgates. He's got the go-to spot and Laura and I love coming to his parties before the game. Marlowe lives in Auburn with his parents Kerry and Matt and his little sister Adalyn.